Home>>HERON modular systems>>Getting started
Getting Started - Programming your system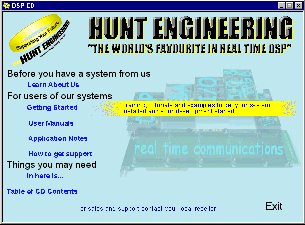 All HERON systems are delivered with a HUNT ENGINEERING CD. This CD contains a huge amount of information to help you to use your system. During the life of your system you can receive new versions of the CD by requesting one, or you can download updated items from the user area of this site. You can receive an email to inform you of changes by registering at the end of your installation, or registering here.
When you receive your system, the most important section is the "Getting Started" section of the CD. Insert your CD and you should see the menus shown here. Click to enter the "Getting Started" section.
There you will find multimedia presentations about how you can install and program your system. You can run the installation program from here, and after that you can start to learn about your system.
First you will learn about the architecture of the system, and will then follow some simple tutorials so that you can become familiar with the software that you will use to program your system. Then you can choose an example or combination of examples that are close to the system that you need to make, and using that as a template can get your development started quickly.
These tutorials and examples all use the APIs that we provide to make it simple for you to access the advanced features of your hardware, but using simple software interfaces.