Home>>HERON modular systems>>The Hunt Engineering CD
HUNT ENGINEERING CD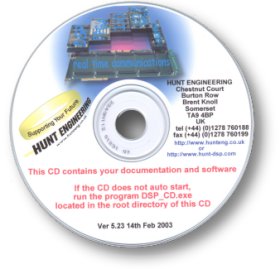 The HUNT ENGINEERING CD is included as part of all our standard products. The CD contains the things you would expect - all our software (APIs, Server/loader etc) ready to install and all product manuals. There are also many useful features intended to help our customers get their systems up and running quickly and painlessly. These include:
Multimedia presentations covering subjects ranging from step by step software installation, overviews of the development tools to explanations of key technology issues.
Software Tutorials showing you how to use all of the development environment
Software Examples which can be modified and used in your own application
Online Support using the local copy of the web site or the link to the the live website
All product datasheets
Useful Technical notes from HUNT ENGINEERING, Xilinx and Texas Instruments.