Home>>Products>>C6000>>HERON-C6203
HERON2-C6203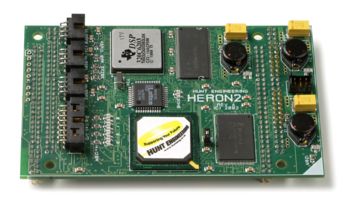 HERON2-C6203 Processing Node
High performance 300Mhz TMS320C6203 16 bit fixed point DSP module
Conforms to the published HERON specification.
32Mbytes Synchronous DRAM running at 150Mhz.
2Mbytes FLASH ROM for booting and NV storage.
Access to the HERON carrier FIFOS
4 bit digital outputs, 4 bit digital inputs available on connector.
3 McBSP 'C6000 serial ports available on connector.
HUNT ENGINEERING Host API supported for Windows 2000 and XP and Linux – DSP loading, resetting and data exchange all performed with simple to use software interface.
Price: (ex VAT & shipping)
HERON-C6203: £1,300
Price does not include 'C6000 JTAG emulator card which should be purchased from another supplier. No cables are supplied with this module.
The HERON2 is a size 1 HERON module. This module specification provides for FIFO communications between modules, and also for accessing of registers or peripherals on the HERON module carrier board.
While it is intended for use on a HUNT ENGINEERING HERON module carrier card, it is ideal for OEMs wishing to use the power of the C6203 without having the worry of BGA assembly, provision of multiple low voltage power supplies, or the use of fast synchronous memories. The HERON module specification is available from here.
The 2400MIPs fixed point processor, running at 300Mhz is coupled with synchronous memory on the module to provide the highest performance fixed point DSP processing module available today.
The inclusion of Digital I/Os directly controlled by the processor, and the Multi-Channel Buffered Serial Ports (McBSP) on connectors of the module allows extra flexibility.
The processor first boots from the FLASH ROM of the module, a boot loader provided by HUNT ENGINEERING. This starts the boot process from one of the FIFO channels of the Carrier card. Most of this FLASH ROM is available to the user for Non Volatile storage of data, or for replacing the HUNT ENGINEERING boot loader with direct booting of the users code.
The HERON2 enjoys full support of the HUNT ENGINEERING server/loader software, with a booting mechanism in a multi-processor environment. It also supports Code Composer for the integrated development and debug environment via the JTAG scan path, and the HERON Serial Bus (HSB). A suitable 'C6000 JTAG emulator card with Code Composer Studio is required.
HERON2-C6203 Diagram

Technical Specification:
Processor:
C6203 @ 300Mhz
Memory:
32Mbytes SDRAM
2Mbytes FLASH ROM
Host Bus:
HERON interface
Maximum Dimensions:
4.0 inches x 2.5 inches
Power requirements:
5V Max: 1.5A
Typ: 0.6A
12V 0A
I/O:
4 bit Digital Inputs
4 bit Digital outputs
2 McBSPs
FIFO speed:
Maximum theoretical: 300Mbytes/second.
Actual with dedicated DMA: approx.200Mbytes/sec.

HERON2-C6203 User Manual

Print friendly version of this Datasheet
(documents open in new window)