Home>>Products>>Modules with FPGA & SDRAM>>HERON-FPGA7
HERON-FPGA7 Module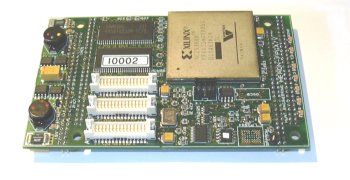 HERON-FPGA7 FPGA module with SDRAM and Digital I/O
Xilinx Virtex®-II FPGA with 3, 6 or 8M gates
Need a larger FPGA? See here.
256Mbytes of SDRAM connected as 64Mx32 @ 133Mhz
FPGA configuration downloaded using the HERON Serial Bus.
Choice of clocking options
45 user defined Digital I/Os
1 channel of RS232/RS485.
Connects to all of the HERON FIFOs, UMI and module ID signals
Flash PROM for storage of configuration data
This module can be used with ready made IP to perform often used functions
Prices: (ex VAT & shipping)
HERON-FPGA7V3000-5: £2,582 (3M gates, speed grade 5)
HERON-FPGA7V3000-6: £3,011 (3M gates, speed grade 6)
HERON-FPGA7V6000-5: £5,317 (6M gates, speed grade 5)
HERON-FPGA7V6000-6: £6,977 (6M gates, speed grade 6)
HERON-FPGA7 is supplied without cables as standard. However, some cables can be supplied included in the hardware price, if required. Please specify at time of ordering either up to two FPGA30 or one FPGA30-CameraLink cables. See HERON-FPGA7 cables for more information.
The HERON-FPGA7 provides a user programmable FPGA element for a HERON system combined with a bank of SDRAM capable of more than 500Mbytes/second. This can be used to process data flows or as a flexible digital I/O module.
Using the HERON serial bus allows the FPGA to be configured with a standard module configuration, or a custom one provided by the user or HUNT ENGINEERING. After configuration the module can accept user messages over the HERON serial bus allowing registers etc to be programmed. If a more significant programming change is required a complete new FPGA configuration can be downloaded. The FLASH based configuration PROM can load the configuration data into the FPGA when it is used in an embedded system This PROM can be programmed using the standard JTAG cable available from Xilinx (such as Xilinx Parallel cable 4 or USB-JTAG cable).
The Digital I/O has a number of voltage formats such as LVTTL or LVDS defined by the combination of a jumper setting and the configuration downloaded to the FPGA. In addition it is possible for the HERON-FPGA7 to be used as a choice of RS232, RS485 and Differential ECL serial interfaces.
The HERON-FPGA7 can access HERON-FIFOs at a rate of 32 bits per FIFO clock in AND 32 bits per FIFO clock out concurrently. For example with a FIFO clock of 100Mhz this is 400Mbytes/sec in AND 400Mbytes/sec out
The module has a 100Mhz oscillator connected to the FPGA, which can be divided or multiplied using the Digital Clock Managers of the FPGA. Additionally there are sockets where the user can add further Oscillator modules for specialist frequencies or jitter/stability specifications. Of course the digital I/Os and UMIs can be used to provide external clock sources to the FPGA. The use of a Virtex®-II XC2V1000fg456-4 part allows clock rates of up to 365Mhz to be used internally in the FPGA, but the clock rate that can be used depends on the FPGA design you generate and must be determined using the FPGA development tools.
NOTE: Virtex II I/Os are not 5v tolerant!
HERON-FPGA7 Diagram

Technical Specification
Processor:
Virtex®-II
Memory:
256Mbytes as 64M x 32 at 133Mhz
Host Bus:
HERON
Maximum Dimensions:
4.0 inches x 2.5inches x 6.5mm high.
Power requirements:
5V dependent on FPGA configuration
12V Max: 0A
Typ: 0A
-12V Max:0A
Typ:0A
Power Consumption/Dissipation

Max Bare FPGA package dissipation: 4.5W
From 5V supply :
FPGA PSU power can source 18.39W
Rest of logic uses 0.6W

Clocking Speed:
Max HERON-FPGA7V 365Mhz
I/O bandwidth:
e.g. HEPC9 400Mb/s in + 400Mb/s out
Xilinx Foundation series tools are required to make a new FPGA configuration.
HUNT ENGINEERING provide software to download the FPGA configuration file onto the hardware, plus configuration examples.
HUNT ENGINEERING may offer to provide your configuration file for you, but this may be chargeable.
Need a ready made function? See the IP available for HERON-FPGA7

HERON-FPGA7 User Manual

Print friendly version of this Datasheet
(documents open in new window)