Home>>Products>> Module Carriers>>HEPC9
HEPC9 PCI HERON Module Carrier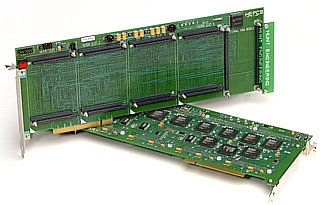 HEPC9 PCI HERON carrier card
High performance 32 bit 33Mhz PCI bus interface
Four HERON module sites
Fifth non-HERON module for implementing inter-board connections without using the PCI bus
HEART communications system provides "Virtual FIFO" connections
PCI "master mode" (PCI DMA) support
JTAG header to connect JTAG emulator system to a DSP
Fully supported by the HUNT ENGINEERING API software for Windows XP/2000 and Linux.
Price: (ex VAT & shipping)
HEPC9: £2,100
The HEPC9 is a full-length desktop PCI plug in card that has four 3.3V 100Mhz HERON module sites. This allows almost any combination of modules to be chosen from the HERON range of processing and I/O nodes.
The HEPC9 uses the HEART communications system developed by HUNT ENGINEERING specifically to allow software configuration of Virtual FIFO connections between the modules. It has been specifically designed for real time systems – that is systems where a guaranteed bandwidth is available.
Each of the modules has 6 input FIFO connections, and another 6 output FIFO connections that can be routed by configuration software to modules on this or other HEART based boards.
The PCI bus node, and the inter-board fifth (non-HERON) module have a connection to the HEART system that is identical to the HERON modules, so they also have 6 input FIFOs and 6 output FIFOs.
The HEPC9 enjoys full support of the HUNT ENGINEERING API software, which provides a consistent software interface to all HUNT ENGINEERING host boards, from all supported HOST operating systems.
This API allows the support of the Heron Serial Bus (HSB) and the HUNT ENGINEERING server/loader for booting and communicating with the modules via the FIFO connections
HEPC9 Diagram

Technical Specification
Processor:
None
Memory:
None
Host Bus:
32 bit 33Mhz PCI rev 2.1
Maximum Dimensions:
4.8 inches x 13 inches
Power requirements:
5V Max: 4.0A
Typ: 2.7A
12V 0A
Host Interface performance:
Host machine and operating system dependent up to 100 Mbytes/second
FIFO speed:
60 to 100Mhz FIFO clock
max. 400 Mbytes/second
HERON slots
5V tolerant HERON slots
Supports 32 bit HERON modules and legacy 16 bit GDIO modules

HEPC9 User Manual

Print friendly version of this datasheet
(documents open in new window)