Home>>Some of our Customers>>Telecomms Testing
| | |
| --- | --- |
| Customer Advantage: Modularity and flexibility | Cetecom - manufacturer of telecommunications testers |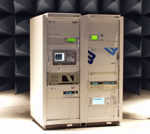 CETECOM develops test systems for wireless and mobile communication technologies. They are using the HERON boards to implement:
- Bluetooth protocol test system: implementation of a Bluetooth 1.1 and 1.2 device with monitoring ports and the ability to behave in non-standard ways. It will be expandable to new Bluetooth standards by software upgrades.
- UMTS network emulator: implementation of a multi-cell, multi-carrier layer 1 of UMTS (network side) for a protocol test system
" The Hunt Engineering solution provides us a very flexible architecture that allows us to get the right combination of DSPs, FPGAs and I/O for every design, in only one product. We do not need to buy and learn new platforms for each different design we have in mind." says Joaquin Torrecilla, Director of R+D, Cetecom.
For more information see http://www.cetecom.es/web/en/pag/0.htm